New Memorial Dedicated at CHS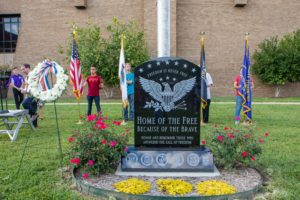 Katie Roeck, Staff Reporter
October 10, 2018
           On September 11, 2001, four planes crashed around our country killing nearly 3,000 people. On Patriot's Day this year, Collinsville High School dedicated a new memorial to not only those who served on 9/11, but to all who have and are still serving our country.
        CHS teacher Barbara Lindauer came up with the idea to build a memorial and in April 2018, the monument was installed.
        On 9/11 Lindauer was teaching a class when the principal came in and had her turn on the news.
        "It was just after the first plane hit. I'd thought it was just human error, after the second plane hit though, [me and the class] became transfixed in disbelief," said Lindauer.
        She wanted the dedication to be on a significant date and touch the people who decided to attend, deciding on Patriot's Day for the ceremony. Lindauer was able to easily contact veterans and government officials from all over to come and see the event.
        "I'm thankful that the community and Unit 10 staff and students could make a memorial that could be a reminder to not take everything for granted," said Lindauer at the opening of the service. "This one stuck with me for its relevance to today: 'Glory belongs to something greater than yourself, to a cause, to your principles, to the people on whom you rely and who rely on you.' You are the people I count on. I know I can rely on you and I hope you know you can rely on me."
        Mayor Miller later went on and thanked Lindauer for "providing this beautiful memorial," making sure to mention how the student participation was welcome and great. A letter was also read aloud at the ceremony written by Illinois Senator Tammy Duckworth, illustrating her regrets about not being able to attend.
        Following the reading Army Judge Lieutenant Colonel Sarah Smith stepped up to say how it was "heartwarming to see so many on this occasion" and said the unity and appreciation she felt during the service was just like the strength we had as a country after 9/11, unbreakable and undeniably true.
        Illinois Congressman John Shimkus, a retired Army Lieutenant Colonel, spoke on Patriots Day as well, explaining how he is proud to have graduated from Collinsville High and call Collinsville his hometown.
        "We volunteer to serve for a cause greater than ourselves," said Shimkus. He gave his thanks to Lindauer and the school for creating a constant reminder of those who had made sacrifices for our country.
Private Cade Juenger, a senior at Collinsville High who enlisted in the National Guard this January, was also in attendance. Inspired to serve his country and eager to start training, he went to Fort Leonard Wood.
        "I learned what it means to be a soldier," stated Juenger.  "What sums up [being a soldier] up are the Army Values, loyalty, duty, respect, selfless-service, honor, integrity, and personal courage."
        Juenger believed that the ceremony was a great idea and appreciates the recognition and support for veterans and those who are important parts of the community.
        "To me, it has always felt like a personal duty to serve this great country and carry on the torch from many before me who have paid the ultimate sacrifice for this land," Juenger said.
        The dedication started with a presentation of colors, where the Honor Guard, presented the flags and the National Anthem was played by the Collinsville High School Band. After this Lindauer began the opening remarks. Mentioning having thought of how to show her feelings on what the monument meant to her, she said, "I combed through dozens of quotes for inspiration and…
        Two families made the ultimate sacrifice for our country, losing loved ones to the war, and helped lay a special wreath at the monument.  Private Henry B. Diaz's family and the family of Captain John E. Tipton solemnly went up and posted the wreath, bringing a moment of silence to those who have been lost.
        Kahokapella performed a rendition of "Song for Unsung Heroes", throwing in "My Country 'Tis, of Thee" and asking everyone to sing with them. Afterward, the CHS Band played "Veterans Salute", asking them to stand as their branch's song was played. Principal David Snider spoke and said he was definitely " Proud to be a Kahok, but, more importantly, proud to be an American." Closing remarks were said and Collinsville Middle Schooler Jack O'Hara played Taps to finish the ceremony.
        The memorial resides in front of the school's flagpole and reads, "Home of the Free Because of the Brave."