Kahoks bring home 3rd place trophy in IHSA's Soccer State Championship!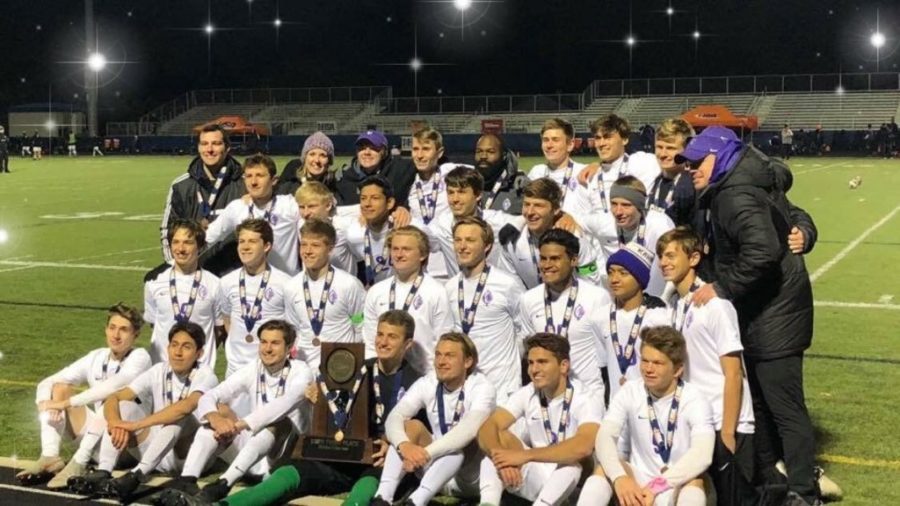 Our soccer team has had a phenomenal season this year with significant achievements such as: winning Regionals for the third consecutive year, winning the Sectional and Super Sectional Championships, and an ll-game winning streak that got them to State where they placed third.
"The year was a success," said Head Coach Robert Lugge. "We had 14 seniors, so it was nice to see the seniors contribute to a successful season."
Lugge was very impressed by the improvement in their leadership which lead to a "style of play [that] has improved."
One of their biggest achievements, according to senior soccer player Zach Cawvey, was "bouncing back from the rough patch at the beginning of the season."
"We went through position changes and were out two players, Zane Baker, due to a broken hand, and Tray Przybysz, due to a broken arm, for the early parts in the season," said Cawvey.
However, they were able to overcome these challenges. The team worked together outside of practice and this effort showed on the field.
"We came in closer than most teams from playing together since freshman year," Cawvey explained. "We came in knowing we could win knowing we could have a good shot at playoffs. That transferred to our practices and games."
The level of motivation they had throughout the season was enough to overcome all the obstacles they had to overcome throughout the season.
Along with this, Coach Lugge would like to thank the school and community throughout the year for all their support.