Kahok Men's Soccer finished their regular season 14-7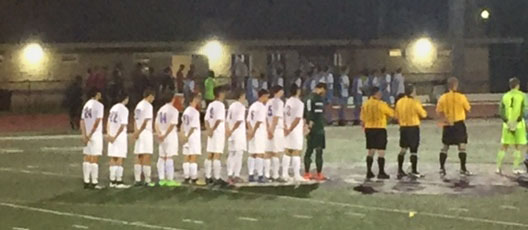 Hang on for a minute...we're trying to find some more stories you might like.
Kahok soccer enters the playoffs
Kahok Men's Soccer finished their regular season 14-7. They finished second in the Southwestern Conference falling behind Edwardsville.
Leading goal scorer for the Kahoks this year was junior Logan Whitehead with 15 goals following up with Luke Liljegren (eight goals), and Trey Przybysz (seven goals). Zane Baker and Sam Huster also added six goals a piece.
First year head coach, Rob Lugge, explained that the season has been pretty up and down after losing eight starters from last year, but overall the boys have played good as a whole and have had lots of players move up from JV to Varsity over the season.
The team has bonded a lot off the field making it visible in their plays on the field.
"We've all known each other for a decent amount of time, but we've grown a lot closer over the season, which is expected," said Whitehead. "But one of the things we found interesting was at the beginning of the year, we were asked to write our goals down on a piece of paper and almost everyone wrote down 'become a family.'"
The Kahoks have many important factors that help them succeed on the field.
"I think one of our biggest strong points is our team's speed and the ability to possess the ball when we need to," said Whitehead "And our outside backs have been doing a good job of both defending and getting forward in the attack"
Like every good team, the Kahoks practice as often as they can and make the most of each one.
"Every practice I feel like i'm in a game," said captain and junior defender, Zac Cawvey. "There is so much competition and wanting to win even if it's just a race in the passing pattern which helps make it easier for us to transfer that into a game."
The Kahoks have just started post-season. "I am very confident moving forward in play offs," said Cawvey. "We have watched or played the first couple of teams so we know what to expect from them. After that it will be a matter of winning one game at a time and showing everyone why we worked so hard in preseason."
The team has proven this to be true so far by winning the Regional Championship last Friday against Quincy. They continue on their journey by playing Edwardsville Tuesday night in the sectional semi-final at O'fallon High School.