Holiday basketball tournament has long history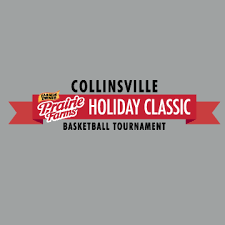 Collinsville High School will host the 38th Prairie Farm Holiday Classic as 16 teams will battle it out for the championship trophy. This year's teams will come from local and from distant places as Collinsville welcomes a team from Tennessee into the tournament this year.
Collinsville continues to expand the tournament nationwide as Collierville High School comes to the metro-east to play. Last year Wasilla High School's team came from as far away as Alaska.
Decatur Macarthur High School is the defending champion in the tournament. They won their second championship against O'Fallon High School with a score of 66-46. When Decatur Macarthur last won the tournament, it was the first time the tournament was being held in 1984. Lincoln currently holds the most titles in tournament history with six. The last time Lincoln won was in 2014.
Collinsville looks for the same accomplishments as last year as they made it to the final four but eventually fell to O'Fallon with a score of 49-50. They went on to beat Quincy in the 3rd and 4th place game with a score of 49-34. The Holiday Classic is a great time for all of the coaches and the athletes during the three days.
Senior Jake Wilkinson is a starter for Collinsville and played in the tournament in 2021. When asked about his favorite part of the tournament, Wilkinson stated, "Probably just hanging out with my team in between games. Winning games with your team and being with them for three days is something that is really important to the relationships and chemistry of your team."
Clay Smith is the Athletic Director at Collinsville High School and puts in a lot of behind the scenes work to get ready for the tournament. Lots of decisions go into the selection of teams into the tournament.
"Recruiting teams never stops," said Smith. "We need 16 quality basketball teams to make our tournament a success. There is a committee of people that help with this process." 
Tournament officials have elected for a 35 second shot clock to be implemented into the games. This is something that high school basketball has never seen before and would be an experiment for IHSA to see how they would like to expand the shot clock throughout Illinois.
All day tickets are $10 and can be purchased at the door at the beginning of that specific day. All Tournament passes can also be purchased and they are $30. Collinsville is set to play in the 6th game of the tournament against Oakville High School from Oakville, MO. The game will be held in Virgil Fletcher gym at 6 p.m.