A new face in the crowd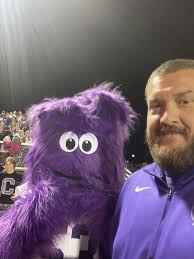 The Collinsville Kahoks have a special new face attending sporting events to help raise school spirit.
Dressed in an all purple and its own football jersey, Kaptain Kahok attends sporting events to get the crowd going.
Kahok Krazy Advisor Branden Henson loves the fact that a new face is in the crowd. 
"Having a new mascot that everyone wants to take a picture with when they see it in the hallways is a great way to help boost school spirit," Henson said.
Kaptain Kahok agreed to wear the costume because it wants to see people happy and smiling.
 "It would be great to see all the people laugh and smile and want to take pictures with me," said Kaptain Kahok.
To the school, Kaptain Kahok has had a positive impact in raising school spirit at school events, but to Kaptain Kahok , it is more than just that.
"I represent Kahok Pride," Kaptain Kahok said. "Kaptain Kahok helps the school because it looks good when there is a mascot attending games that is positive, important, motivating, and proud of its Kahok roots."